Oli's Story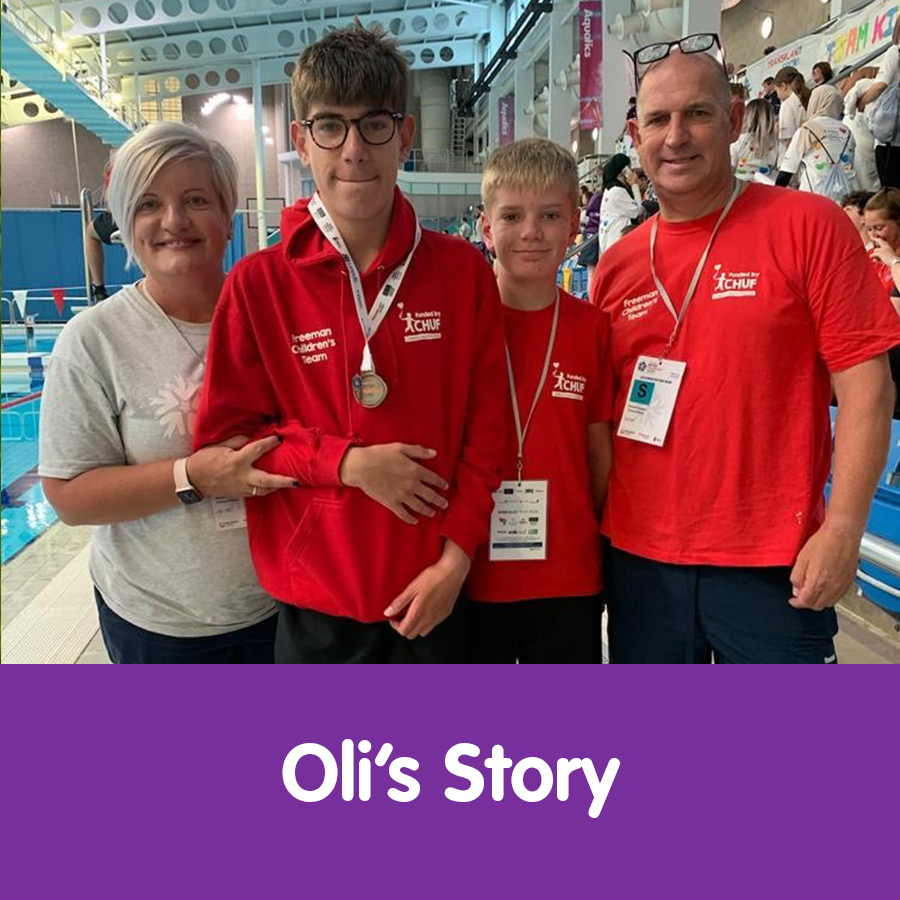 At 3:00 AM my mobile rang, I heard this happy northern accent saying that a potential heart was available!
"Our gorgeous Oliver was always a very poor child, he was born with Hypoplastic left heart syndrome and chronic regurgitation of his tricuspid valve. Oli lived in chronic heart failure from day one and by the age of 2 had endured four open heart surgeries, two cardiac arrests, DVT, Endocarditis and had a very high-risk mechanical valve fitted within half of his heart.
We always tried to keep positive and at seven months Oli went to nursery and I returned to work, we craved to try and be as 'normal' as possible. Our dream for Oli was to live a life full of fun, love and laughter – but every clinic reminded us that Oli would need a heart transplant. Oli received only palliative care and what our amazing medics were doing was literally bridging time for Oliver until a transplant was imminent.
Oliver was getting bluer and bluer, he relied totally on his big buggy and gasped so much when he went up the stairs. Our amazing team in Birmingham sent us up to the amazing Freeman in Newcastle when Oli was about two for a transplant assessment. To our total despair we were told a transplant was not possible due to raging high antibodies so this is when Oliver had his mechanical valve fitted. Oliver was initially well but became very ill due to a nasty infection, he fought hard and we eventually returned home two months later.
Miraculously, Oliver coped amazingly with sats of barely 60%, but this was Oli proving that we were all individuals and that we all cope differently under different circumstances. At one point he even got discharged with sats of late 50's – Oli was Oli and no amount of nasal specs full of oxygen helped.
Oliver started reception school in September 2012, and tried hard to keep up although his health was deteriorating drastically. That Christmas we visited the Freeman again in view of being listed and just after Christmas we had an amazing phone call to say that, by a complete miracle Oliver's raging high antibodies had vanished – maybe my constant prayers had worked! Tears, anxiety and reality was kicking in and in February 2013 Adam and I drove a 500 mile round trip to sign Oliver's consent form. Oliver was now on the national heart transplant list.
This, we feel was the scariest moment of our life. So many friends and family were awkwardly congratulating us but deep down we were petrified! To us there was no going back as in hoping for further surgery, a new drug trial etc. and we were now on a journey of fate and wondering when our call would come. Would Oliver live or die? These were harsh words to ask, but in the transplant world, these were normal questions!
Oli kept on at school as he loved to be with his friends and we were so keen for life to be as normal as possible. I would collect Oli each day at 2pm and take him for a little treat, which was a chocolate Freddo, really I wanted to buy him the world. Oli even competed in his first ever school Sports Day, I could have cried. During Oliver's last day of term I said to his teachers that I hoped very much that I wouldn't be seeing them in September, they just smiled but I so meant it. I needed our call very soon while Oliver was unbelievably keeping so well in himself. Chronic heart failure yes, but coughs and colds etc. seemed to stay away thank the good Lord!
On August 18th 2013 Oliver had the worst day of his little life. He screamed all day and was so irritable, for the first time in years I cuddled him to sleep in our bed in the afternoon having had one of his melatonin tablets as I honestly believed Oliver would collapse in sheer exhaustion. But he slept for 2-3 hours and woke up as a new little man, ate a lovely Sunday roast and had a warm bath where I cut his toe nails and even cleaned his ears! I found this odd as this wasn't a school night and I normally would have left the big clean for a different day… Maybe I knew that something was going to happen?
Adam left for work and we all went to bed and Oli lay by me very peacefully and I lay next to him listening to his mechanical valve beating and I felt so sad, I even sobbed. Secretly life was getting harder, Oliver was so hyperactive and irritable and I was shattered and scared. I had done various interviews on radio and TV and the confident happy woman with pink lippy was a real wreck! I was desperate for that phone call, but truly realised a gorgeous person would have to die to allow Oli to live.
Quite strangely I sent a text to my very worried mum at midnight saying I was fine but just so worried, Oliver needs his heart very soon.  Before falling asleep I heard Adam return from work and asked him to sleep in Oliver's room as at last he was settled.
At 3.23am my mobile rang right by me… And I knew, I just knew! My saliva vanished from my mouth and I heard this happy northern accent saying that a potential heart was available!
I was told to keep calm, have a shower and that transport would be with us in an hour. I woke Adam shaking madly, phoned my mum as my younger son was in bed (bless him) so I needed her to come round. I then stood on the landing and literally sobbed, all I could visualise was our amazing donor family, and how their loved one would still be alive with machines – what a decision! Still sobbing in the shower I then kicked into strong mode. My bag was already packed so it was now time to explain to Oliver that we were off on an exciting journey. We were blue lighted to Manchester airport and took a private jet to Newcastle. Daddy drove up separately as we needed our car.
Arriving in hospital at about 7am we walked in with the new nurses that day, everyone was so happy and welcoming! They took Oli's blood etc. and then he went off to the play room. Video recording Oliver seemed a vital thing to do, and we then had our news – the heart was very good! Oli was then gowned up and we were off to theatre. I hate the theatre so made a quick exit sobbing as usual.
Twelve hours later we were allowed to see our beautiful Oliver. The ventilator and infusions just didn't seem to be there, although obviously they were. We just saw Oli with pink lips, pink cuticles and looking so different, with saturations of high 90's – something we had never seen before!
Oli stayed in a vacuumed air tight room in PICU for three days, and so did we! Down to the ward seemed such a big event and Oli became so poorly, sick so weak and the major drugs were literally making him vomit on an empty stomach. I cannot describe just how sick he was and I felt so scared! I honestly thought one evening how on earth can Oli ever survive this? What had we allowed him to go through? I actually sobbed on a nurses shoulder in the middle of the night and I remember her saying all the kiddies have this period and that he will pull through. She said that each day he would get stronger. Our lovely nurse Carol was correct! On day five Oli was eating curry, wanting to play on his Xbox and by day six he was in the gym – what a miracle!
We learnt all about Oliver's medicines and by day 15 the 'home' word was mentioned. Oli went down for a biopsy due to the past history of high antibodies, so daddy went to pack up our room in the flat and I thought I would start to tidy our room just in case we were going home. Our lovely transplant nurse came in looking worried and explained that Oliver was in acute rejection. We were heartbroken and we sort of knew something was going to happen as Oli had never done things simple! A big dose of drugs, which Oli struggled with, and back in isolation was so sad but everyone around us remained positive although our consultant was very concerned and realistic to us that this was not good – Oliver's nasty antibodies had returned.
Constant bloods, a further biopsy, the antibodies were static but not going down and we were to be back in clinic every Monday for the next 12 weeks!
Eventually Oliver's antibodies slowly decreased. He kept really well and he was back to school after the October half term, part-time and after Christmas he was back full time. Physically tired but loving every minute of his new life. We were told that Oliver's fitness will improve slowly as he had never used his little muscles before.
Oliver deep down missed out on his little life so much due to being in hospital for so long. He never spoke or walked until about aged three, then by the young age of five fought hard to survive a heart transplant.
School has always been an issue through lack of understanding and expectations of Oli so we moved Oli to a beautiful new small school in September 2014 and Oliver is thriving! He's so happy and academically he is progressing, although this has never been a big issue as happiness, fun and politeness is all we ever want for Oli. He is now on his own accord, stays for tea at school one evening a week, attends a couple of clubs, is quite literally sports mad and generally loves school.
We feel the luckiest family in the world that our gorgeous Oli has been given the gift of life. Oli and his gorgeous little brother are our lives and we can never ever thank our amazing donor family enough.  Ever! We think about them every day and write to them, and will cherish our letter from them."
This incredible eye-opening story was written for Little Hearts Matter by Emma, Oli's mum, back in 2014. The story was originally published on our Tumblr heart-blog. Since then, Oli has flourished and has gone on to achieve sporting success. Oli represents Shropshire Disability men's cricket and most recently competed at the British Transplant Games in Leeds.
The games are open to transplant survivors from across the UK, competing in more than 25 sports with many athletes going on to compete at the World Transplant Games. This year, Oli participated in the games and won four medals in swimming, Football, 100 Metre Sprint and Ball Throw.
Below you can see a photo of Oli at the games along with his family. The idea of a heart transplant can of course be incredibly scary, so we hope Oli's amazing story can provide some hope to those who may be following the transplant pathway.
"Organ donation is such a sensitive subject, but a subject I feel very strongly that we should all talk about it honestly and openly when we are all alive and happy. Then in the very rare circumstance we may be in the heart breaking situation with our loved one their decision is made. To give the gift of life is the most amazing thing ever – it's life changing. 'Thank you' will never ever be big enough words to say to Oli's amazing Donor and family." Emma Said.