Ben's Story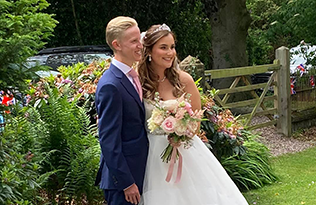 Back in June, we shared this amazing photo of one of our adult members, Ben, at his wedding along with his lovely wife Megan.
Ben has Hypoplastic Left Heart Syndrome and is now 26 years old. Suzie, our service lead, has had the pleasure of knowing Ben since before he was born.
Over the years, Ben has grown his own car detailing business, Dead Rock Detailing, based in Cheshire. Through his passion and automotive know-how, Ben has built up a successful brand, working his magic on some incredible cars along the way.
We were delighted to hear that Ben will now be launching his first ever car show as part of the Dead Rock brand – 'Cars at the Farm' taking place in Tarporley on Sunday October 30th.
We reached out to Ben to find out what the event is all about!
"This is the first car show that I am running. The idea started out as a car meet, but we received some great support from other local companies so it snowballed into a fully-fledged event. Cars at the Farm!" Said Ben.
"We are planning the event with a relaxed vibe in mind, which is quite rare in the car show world, so we are doing something really unique here."
For a double dose of awesomeness, the artwork for Ben's event has been designed by Luke Oakeshott who is also one of our SVH Adult members with HLHS. Luke has used his creative talents to capture Ben's vision for the posters and merchandise artwork. "Luke's work was exactly what I was looking for and he's a friend, so it was a very organic process."
On top of this, Ben will be donating a percentage of his ticket sales back to Little Hearts Matter, such a generous thing to do and every penny will make a real difference to our support and information services, thank you so much!
What Ben and Luke are doing is a testament to not letting your heart condition define who you are. Wishing them both all the success in the world, they deserve it!
If you are in the Cheshire area and would like to see some incredible cars on show, at an event led by an adult with half a working heart, click here this to grab your tickets.
Click here to support Luke's graphic design work. 
Half a heart, not half a life