Michelle's Story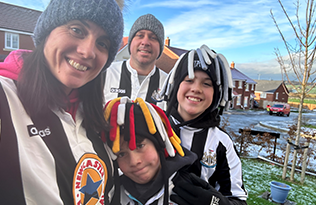 Michelle Rose is the mother of Elijah, a 'little bean' with a series of conditions such as Double Inlet Left Ventricle, Transposition of the Arteries, Hypoplastic Right Valve, and Sub Pulmonary stenosis. For parents, the 20 week scan usually confirms the pregnancy is going smoothly, and Michelle naturally expected this.
However, she describes the shock and heavy tears following her son's diagnosis and the surprise of having to make that choice, whether to terminate the pregnancy or continue. Like so many of you, she never considered that such a decision would end her life. Her friends told her it was a simple decision, but it never is, because 'you have to prepare yourself for what's to come, how it would affect your family. The whole experience was difficult as Michelle's husband who is part of the British Army was stationed in Germany at the time.
Michelle gave birth to her 'cheeky little character' on February 5th 2015 and was cared for at Glenfield Hospital for half a year. At 9 months, he had his first cardiac catheter inserted and if that wasn't enough, had his first open heart surgery at 11 months old! There are so many issues that Elijah faces daily, he becomes tired easily and even lost control over the right side of his body due to having mini-strokes.
But Elijah is still someone who 'lives life to the maximum' and his parents joke that he will probably message his mum at 18 to tell her that he's climbing Everest! He loves keeping up with his friends and his parents never hide the fact that he has a condition.
It's been a difficult journey, but various medical teams and Little Hearts Matter have helped Michelle and her family get through the many ups and downs.