The NHS England Congenital Cardiac Review report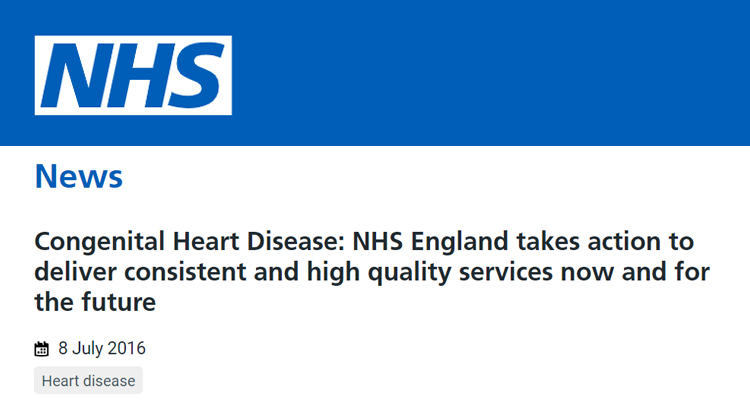 Many LHM members know that over the past four years there has been a major review of children's and adults congenital cardiac services in England. Having learnt from the mistakes of past reviews this time NHS England worked to make sure that patients, families and their representatives were involved in the review from the beginning.
It was agreed that the best way to make sure that every child in every part of the country would receive skilled and caring treatment; doctors, nurses, managers, charities, patients and parents all worked together to create a set of Standards of Care that followed the patient pathway from diagnosis, through treatment, on into care at home. Doctors decided how many operations should be done by each doctor each year and what medical care should be available by the bedside for a child in a critical condition. Suzie specifically worked with the team to advance the communication, facilities, and bereavement standards.
For the first time ever the transition from children's to adult care and the treatment in adulthood was also included in the Standards; a truly joined up service.
Having asked the hospitals to measure themselves against the new Standards, adopted on the 1st of April this year, it became clear that some units were unable to meet key medical Standards. NHS England looked again at their information and it became clear that even with support some units would never be able to meet the number of operations needed to maintain surgeon's skills or the specialist services needed when a child is critically ill.
Today NHS England has published what they recommend each medical team should do, moving forward. For some it may mean stopping surgery but continuing their medical care. Others may have to develop a specific part of their service, find more staff, or create better facilities. https://www.england.nhs.uk/2016/07/chd-future/
We know that some parents will be extremely upset to hear that their unit may no longer offer surgery. Although LHM has been asking for national standards for a very long time, because the care of children with single ventricle hearts is complex and lifelong, we are reassured that no change will be made suddenly. We will be urging NHS England to set out a pathway of change as soon as possible, families need to understand how their children will be looked after in the future.
As always feel free to contact the LHM team if you would like to talk about any of the issues highlighted above 0121 455 8982. Your Specialist Nurses will also be available if you are seeking any information about your child's care.