LHM Extends Support For 7-10's With Half a Heart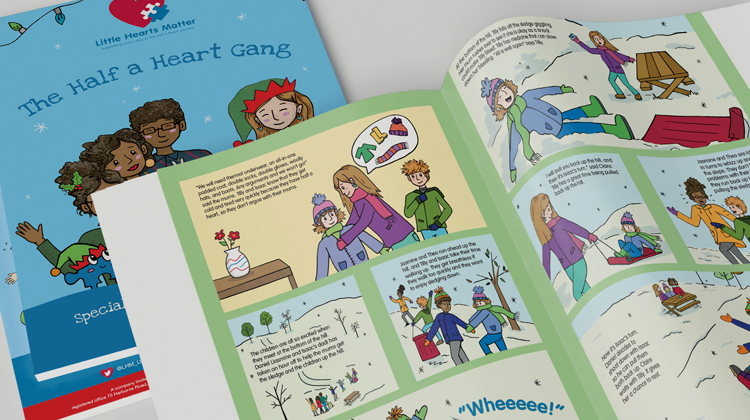 The Little Hearts Matter team kicks off 2023 with some exciting new additions to our support services for young people with half a working heart aged 7-10.
Throughout 2022, we listened to our members and identified a need for more support in this age group, so it is with great pleasure that we can now introduce LHM Kidz, a branch of LHM support specifically for 7-10's, led by two amazing new projects we have been working on…
The Half a Heart Gang – A comic book for 7-10's with half a heart.
The Half a Heart Gang have landed and are here to empower young people with half a working heart aged 7-10. This friendly, supportive comic book is winter themed, with lots of helpful info on things like keeping warm and managing your energy levels. The comic also doubles up as a super useful resource to share with siblings, friends and teachers, too!
Available digitally by clicking here.
Members can request a physical copy in the post by emailing info@lhm.org.uk
The LHM Youth Hub opens up for 7-10 year olds.
We are thrilled to announce that our Youth Hub messenger service is now open to LHM Kidz aged 7-10. Upon registering, LHM Kidz will be able to use our web-based app to chat to others in their group in a monthly youth group session led by Lexie our youth leader.
LHM Kidz members will also have access to information through the web-based app, to help them understand their heart and lifestyle surrounding this. We have implemented lots of features to ensure this is a safe space. If you would like to see the full document explaining these features, you are welcome to view it by clicking here.
This new service launches on Wednesday 25th January and you can register in advance by clicking here.
2023 and beyond
Our mission is to make all of our members feel supported and part of our community, so it means the world to offer 7-10's these new levels of support. We hope that having access to the youth hub will help them build LHM friendships and provide easier access to the information they need.
We have a lot of ambition moving forward so as always, watch this space to see our support evolve even further throughout the year.
The LHM team.