Karen's Story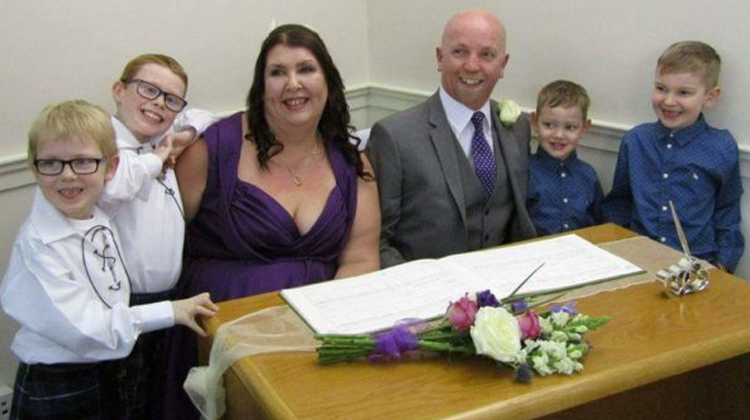 My heart story started back in April 2009. My eldest daughter was pregnant with my very 1st Grandchild, an exciting time for any new Grandma to be.
I'd travelled down to Manchester from my now home in Durham so I could help my daughter and meet my new Grandson. Just before the end of the 16 April. His Daddy sent me news of his birth. he was absolutely gorgeous! I couldn't wait for visiting hours the next day.
Alex hadn't had a good first night and he was taken to the SCBU. It was thought he had a lung infection as he wasn't feeding and he was put in an incubator and sedated. To see my first born grandchild in this way for the very 1st time was naturally upsetting for me…wondering what all the tubes and wires were for?
A few days went by, Alex was still sedated and the hospital still thought he had an infection. I had to return back home. I'd not even touched or cuddled my gorgeous little boy. News came a few days later that they were allowing Alex to go home. This was a Friday and when I was at work on the Saturday morning, Kirsty called me feeling anxious that Alex wasn't taking his milk. I told her to give it an hour or so and if she was still concerned to call the midwife.
Later that day, Alex was taken to Manchester Children's Hospital, here he had a few tests and was diagnosed as suffering from heart failure and subsequently rushed to Birmingham Children's Hospital.
Kirsty gave me information. My mind was going crazy. My new grandson, I'd never touched or held and only seen through the side of an incubator. And now I was being given percentages of survival for my poor little man. I didn't know if I was coming or going, I wanted to rush to Birmingham to be there for my daughter and to see Alex (just in case). His Grandpa Pete had never even seen him except on photos. So on the day before his operation we (Grandma, Grandpa and Aunty Carla) all climbed in the car and drove the 200 plus miles to Birmingham.
Alex was on ward 11; we went in to see him two at a time. I let Grandpa Pete go first and then Aunty Carla. I went in and actually got to stroke my Grandson's head and arm for the first time. A huge mix of emotions wondering if this would be my first and last… or if I would see Alex again in a few days. I remember my husband telling me: "In a few years there'll be this little ginger kid running around shouting Grandma! Grandma!" I so wanted to believe him!
We stayed in a hotel overnight and I'd read the booklet Kirsty had been given by Little Hearts Matter. I at least now knew what was wrong with my little man. Hypoplastic left heart syndrome.
We had to drive back home on the day of the operation (Alex was just 13 days old) but kept in touch as much as we could.
Later in the day, we got a call… Alex had had the op, but within minutes of coming back from theatre he arrested. There was a leak and the blood was compressing down on his tiny half a heart. The surgeons worked on him there. They found the leak and fixed it. Phew !
Just a few weeks later, they were home and I drove back to Manchester to get my very first cuddles with my little superdude
I remember Alex's first visit to Durham when he was a few months old.
He'd come to stay with us. We had two Siberian Huskies and I was wondering what they'd be like with Alex. Any worries were immediately put out of my mind as my eldest boy, Bandit , would not leave Alex's side.He heard Alex crying in the night and ran upstairs to check on him. I still think Bandit knows something isn't quite right with Alex and he likes to look after him. Even to this day when Alex comes to stay, Bandit is first there to greet him.
Alex's second op went well at 5 months old.
In the next few years, Alex visited numerous times for little holidays and we have some lovely memories.
In February 2014, the call came for Alex to have his Fontan operation. All went well and I'd driven to Birmingham a few times to see him after his op. His colour was amazing! He looked so pink with rosy lips. He even managed thumbs up pic for Grandpa Pete back home in Durham!
He was in hospital for a couple of weeks and once back home he was full of beans! Unfortunately, his 'beans' lasted just a few days as once I was back home in Durham, he developed a cough and wasn't well. He'd got an infusion on his lungs and was taken back to Birmingham by ambulance and had his drains put back in. They were quite slow to drain and he remained in hospital for about another three weeks, of which the last two he stayed with Al and my daughter as his Dad had to return to work.
We had an entertaining time whilst I was there. It was book week and the amount of people that popped by to read stories to the kids on ward 12 was fantastic, even giving them books to keep! Alex even got to meet Harley Bird and for those who don't know the name, she voices one of the biggest kids' cartoons ever! Yes, she's the voice of Peppa Pig ! She read some stories for the kids on the ward. Even a Peppa one! She even left them loads of Peppa toys too!
Another set of visitors had a huge effect on Alex: The Theodora Children's Trust aka the Giggle Doctors. I have never seen Alex laugh as hard as he did when one of giggle doctors sat on my knee and trumped …. Then she blew elephant snot bubbles at me… oh they were yukky, but Alex laughed and laughed (as did I too). It was amazing to see him laugh so hard! In fact, his laughing had jiggled him up so much, the fluid from his lung drains had doubled if not trebled in volume and was all bubbly !!
I can't thank the surgeons, doctors and nurses and all the BCH hospital staff enough for everything they have done for Alex and the family.
As Alex got older, he loved to watch Police Interceptors on TV, especially as he knew it was all filmed near Grandma Karen's house. This is Alex and Kayden meeting Paul 'Jacko' Jackson, another well-known face from the Cleveland and Durham Interceptors.
Alex loved to play Interceptors at school and always took the part of Sgt Kev Salter. Luckily, I have a friend who works for Durham Constabulary and hearing all about Alex and his heart condition and how he loved the police, decided to get him a little gift as his birthday was approaching. I had asked PC Paul Vickers if he could get me a signed pic of Sergeant Kev for him, but Paul did one better as you can see in the photo.
Paul has been to visit Alex a few times now when he knows he's staying with us. He brings up the big police vans and cars.  Alex loves to see him. He's a superstar and I can't thank him enough for all he's done! Alex is now 9 and has been through so much in those 9 years! He is my little Ginger ninja superdude, he never complains and he is mega proud of his scars!
And yes, way back in 2009, my husband was spot on,  I do have this little monster running around shouting Grandma! Grandma! It's just a shame we don't live closer so I can see him more often. This is Alex with his brother Kayden and his cousins Ethan and Logan at Grandma and Grandpa's wedding back in February 2017.