Heart Surgery During A National Lockdown – Max's Story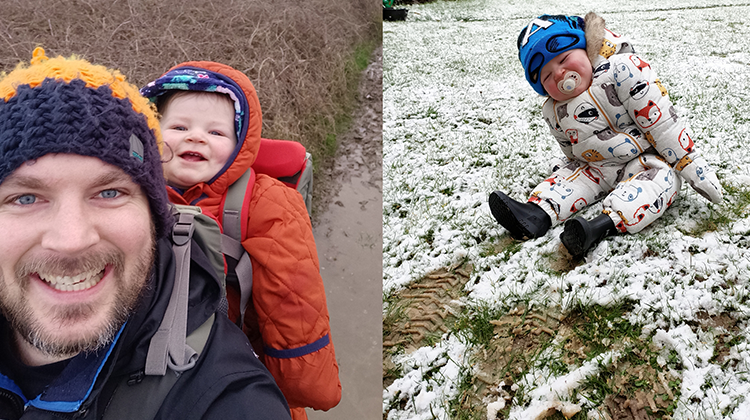 Hello world.
Max (youngest of four siblings) was born early on the 2nd of Jan 2020. He was scheduled for a planned C-Section on the 6th of Jan, but had other ideas…
12 hours after birth, we faced losing Max. I'd literally just collected my kids and sister-in-law to see him for the first time, his heart rate was holding at 250bpm, this was obviously not compatible with life.
The Drs explained that Max was extremely ill and they would first try shocking his heart to bring it back into a normal rhythm, then they had 3 chances to administer a drug to aid reducing the abnormally high heart rate. When asked what they would do if that failed, it was the news no parent wanted to hear and that was that there was nothing more they could do.
What felt like a lifetime was in essence a few minutes, Carly and I didn't know what to say to each other and we sat together in silence hoping for the absolute best. Luckily, Max responded well to treatment, but we were advised that Max would be transferred to Great Ormond Street as a matter of urgency.
Carly and I followed Max down to London in our car, which sounds pretty straight forward but Carly should have been laid up in bed recovering from a C-section not 16hrs before. Personally, I am in ore of the strength that Carly showed that night, but I don't think there was anybody that could have told her she couldn't be with her boy.
Max deteriorated in hospital and they had to bring his first scheduled operation forward. GOSH moved mountains to make this happen with many surgeons still on annual Christmas leave. The day of the operation we said goodbye to our boy, knowing very well it could be the very last time we would see him. 8hrs passed in what seemed like the longest day of our lives. The surgeon had explained to us prior to the operation that he had concerns around the size of Max's aorta that could complicate the procedure, luckily everything went well and the surgeon told us he was happy with how things went.
The morning after Max's operation his beside nurse called us and asked us not to panic, but explained that Max had suffered a cardiac arrest. With his chest still open they were able to provide heart massage and restart his heart. But in the interim, nobody could be sure if Max's brain had been starved of oxygen. The weeks that followed were long and arduous. Max had several complications with abnormal brain scans, hypotonia (query possible paralysis), chylothorax, major clots and trouble feeding to name but a few.
We left the hospital first time around in the middle of Feb. It was at this stage we decided to take our eldest children (Ethan 7 and Ffion 6) out of school. Given Max's fragile condition and the threat from COVID-19 becoming more prominent in the news.
This was the first time that we had to try and explain the severity of Max's condition and its complexity in a school and work environment. Whilst people try to acknowledge what you are saying you could forgive them for not understanding such a complex and life-long condition, some find it hard to understand that whilst Max will have all of these operations, his care or condition is still classed as palliative.
"Connect the Gregory's".
We had originally planned to travel down by train once Max was transferred to Great Ormond Street from Addenbrookes in Cambridgeshire. Given the seriousness of Max's condition we couldn't do this. So we had to travel down by car as there was no room in the specialist ambulance that transported Max. Max's condition was then so poor I didn't dare leave him to take the car home just in case anything happened. A weeks car parking cost in excess of £180, we had to get a wheelchair for Carly as she was recovering from her C-Section and the accommodation provided wasn't exactly wheelchair friendly to add to this there was the cost of food even getting one meal a day costs soon spiralled beyond more than we could have imagined.
We had not realised the exponential costs involved with staying at a hospital. Our close Family friend, Ashley Trickett, felt helpless in the situation so she took it upon herself to raise as much money as she could to try and support us. At the time we were having to choose how we spent our time, we couldn't afford to travel back and forth to see our other kids and this was having an impact on them as we had never been away from them before. In total approximately £1000 was raised and our story featured in local newspapers at Huntingdon and Cambridge.
We were incredibly grateful for the support Ashley and all the supporters of the Just Giving Campaign, we genuinely don't know how we would have managed without the support of such generous people, those that we know and also complete strangers. Thank you to each and everyone of you!
The next stage.
After what felt like the briefest of periods at home Max's second operation (Glenn Procedure) came around in May. We had been shielding for the entirety of this time while COVID raged on around the world. We knew the operation was needed as Max had started to display the classic Red Flags, he was becoming clammy, very sweaty, breathing was laboured, and he became very tired extremely easily.
This operation would be vastly different though. Our support mechanisms in each other were removed. COVID-19 had gripped the nation and only one of us was allowed to be with Max for the duration of our 'stay/visit'. On the face of it, not so bad? Or so we thought. Usually speaking a child has an 'easier' ride with the Glenn. We'd explained this to friends and family and work etc. So we estimated best case 2 weeks worst case maybe 4 weeks in hospital.
The care could not have been any more different if they'd tried this time around. Teams were ravaged by the demands of COVID. Staff had been redistributed around the NHS to support those where they were needed most. Max's single ventricle consultant came down with COVID himself whilst his deputy was off on maternity leave. We were left with locum doctors that honestly had no clue how to deal with Max's jugular clot, severe heart dysfunction as well as HLHS stage two post-operative recovery.
Strength in community.
Throughout all this though, our sister-in-law was steadfast in the support she gave to our other three children at home. Making the time as enjoyable as possible.
Our community really stepped up, too. A blend of military and civilian personnel there is a real sense of community that has been forged in the very depths of despair that COVID had placed on us all.
They looked after Bethany and the kids, offering help and support wherever and whenever it was needed.
The day of the 2nd operation the estate had organised to display posters in the windows wishing Max good luck. Our kids have never been hidden from the very real dangers these operations carry and so this proved as a welcome distraction on the day, for them and for us. Because of restrictions the kids and Beth had to walk round the estate whilst on 'exercise'.
I had to drive to London to collect Carly with a view to drive back to South Mimms services on the A1. The country remained in lockdown and I was not allowed in the hospital. Although it was not ideal at least we could be together to offer what little support we could, whilst our boy fought against the odds again in another complex heart surgery.
Hundreds of comments were shared on our local community's Facebook page. Proudly displaying their heartfelt messages of support in the form of good luck posters for Max and our family. We saw those posts while waiting for news on Max and it really made a lasting impact on us; kindness and thoughtfulness the type of which neither of us will ever forget.
These posters were then collected, and a scrap book made and with comments on the back from the families that made them. We have kept the scrap book and added it to Max's box of memories that was started by the nurses at Addenbrookes. A subtle reminder that we never really know how long Max will be with us. A fact we try to forget but it is never far from our minds.
Continuing the support to us and the wider family of Single Ventricle Children the community then set up a daily reminder to vote for LHM in the Persimmon's competition that ran earlier in the year. Such was the dedication of those in our community to securing money for the charity, that they actually reminded me to submit my vote!! We were all ecstatic to learn that the charity secured a second place finish and the much needed funding in what has been a very tough year financially with many fundraising events being cancelled.
Notwithstanding many people checking on us weekly, the final act of 2020 was when our community organised a special Christmas visit. Our kids missed Santa's visit to the neighbourhood and it was Max's first chance to see Santa. Not letting this lay, the community rallied together for their so-called 'Wyton Warrior' and got Santa back with some gifts for all the family. All donated by the community.
Our journey.
Whilst this year has been terrible. People have said they have seen the worst in people, we really can truly and honestly say we have seen the absolute best in people. People that truly care and look out for one another. We could have quite easily felt alone this year with family dotted across the country due to our job. But we haven't we have been supported by a whole army of people up and down the country and closer to home in our community and not least by our sister-in-law dedicating a year of her life to supporting us through the toughest of times. I have learnt this year not to be to proud to ask for help when you need it. People really do care and will move mountains to help if they can.
Some of the challenges we have faced this year have been post-operatively. People hear you have been to Great Ormond Street, Max has had a couple of operations and incorrectly make the assumption that he is fine. Its hard to have to explain time and time again that Max isn't fixed and actually can't be fixed. A constant reminder that we must live with and all we can do at the moment is hope that science advances quick enough to ensure that if Max's heart starts to fail given the strain it is under, some new development will be there to stop his decline and any threat to his life.
We are constantly asked 'is he fixed now then?' or 'can't they just put him on steroids?'
They don't see the feeding taking place every three hours (24hrs a day, every day), the relentless medication schedule, the need to monitor all food and fluids being administered, the constant reviewing of symptoms checking for Red Flags, the constant medical appointments (travelling into areas with high COVID infections) and then add in the worry of a pandemic and several lockdowns. All of which becomes second nature but its easy to play down the stress it adds to your day-to-day living, a stress you don't want your child to see as you want them to feel 'normal'.
Catching the flu can hospitalise single ventricle children so the threat of an unknown virus that's transmits and kills so easily has weighed heavily on us. We have had to change the way we live, get used to staying indoors a lot more and being extremely careful of any interactions we have, ultimately worrying any slip ups could potentially risk Max's life.
There is the judgement when you park in disabled car parking spaces (Max has a blue badge). They can't see the scar running from the base of Max's neck to his stomach. They can't see his 'bullet wounds' from the chest drains. We know they are there; we know only half his heart is working and we know he is working hard just to maintain 'normal' oxygen saturations and they cannot feel his freezing hands and feet or the blue tinge to his lips. They are too consumed by their quick ill-informed judgements.
The rage I experience from the ignorance of people is hard to describe. The saying 'not all disabilities are visible' is true and something we should all bear in mind, work hard to increase awareness and ultimately be more accepting of other people; free of judgement.
Today.
Max has just celebrated his 1st birthday in yet another lock down. He has started to move around 'commando crawling' as opposed to the conventional sense. He has an amazing sense of humour and smiles through everything he has been through. He embodies the phrase 'smile through adversity'. He is obsessed with trying to climb stairs almost as much as he is obsessed with food. He is never happier than when he is surrounded by his big brother and sisters getting amongst the chaos that our house experiences daily and we wouldn't have it any other way.
We don't know what Max's future holds or indeed ours as a family. We do know that for everything we have been through we are stronger and more resilient as a family unit. We have a different outlook on life, in that we know (all to well) that you cannot take things for granted. You have to make the most of everyday, enjoy all the little things and eventually the big things will take care of themselves.
For anybody that is going through a rough time, be that initial diagnosis or on your child's heart journey please don't be afraid to ask for help! You might actually be surprised by the response.