Football and living with half a working heart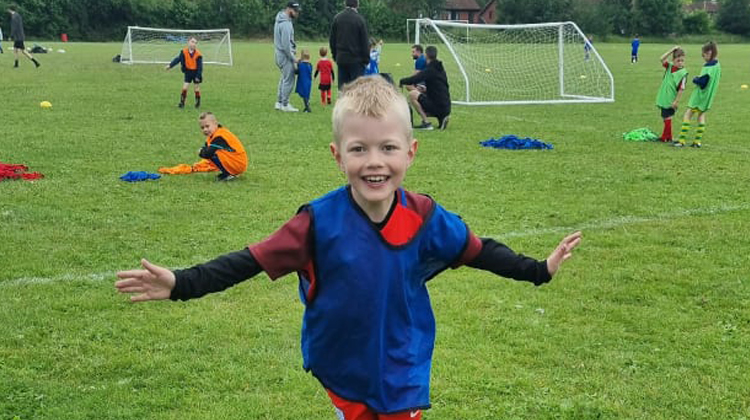 Young people with half a working heart generally do not have the energy levels of their peers. Needing extra breaks to catch your breath can make it tricky to keep up with friends.
So, at a time when the Euros is the talk-of-the-playground, how inclusive can football be for young people with a single ventricle heart condition?
Spencer here is seven and has Hypoplastic Left Heart Syndrome, a rare congenital heart condition. Spencer loves the beautiful game, just like his friends, so mum Theresa has found a way to make sure he can get involved whilst safely managing the limitations of his heart condition.
Theresa said; "Spencer recently joined a football coaching club, they focus on learning the skills and building confidence, as opposed to purely the competitive side. Mini 5-a-side games last 10 minutes at a time and are followed by a drinks break, making it much easier for us to manage Spencer's energy levels. Before you know it, the hour is up and he has been having so much fun doing it."
 "I know some parents are reluctant to let their heart-children do sports, especially like football, but the right coaching school will adapt to their needs."
We are delighted to see our members finding ways to make football inclusive for young people with half a heart, it is just a matter of being realistic with your expectations and exploring all the different options. Removing the intense competitiveness and focusing on the skills and technique may work for you, too, but please remember that every half-a-heart journey is unique and it is all about finding what works best for your family specifically. A huge thank you to Theresa and Spencer for sharing this with us.
Please refer to our website for our full guidance on sports and exercise with half a working heart https://www.lhm.org.uk/information/lifestyle-information/sports-and-exercise/#section-Typesofsportandexercise
If you need support, please call us on 0121 455 8982