After two miscarriages I fell pregnant again, with a baby that had only half a working heart.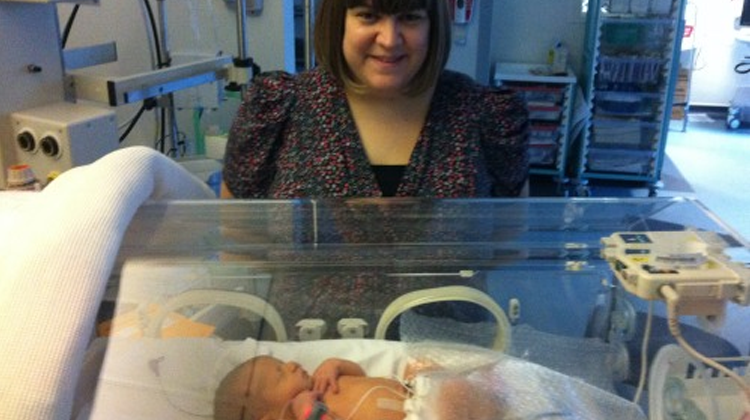 We found out at the 20 week scan that there was something wrong with our baby's heart. A week or so later we saw a specialist who confirmed that it was Pulmonary Atresia, in short, our baby would only have half a working heart.
We had already experienced two miscarriages by this point and I can honestly say we were relieved when we were told about the surgical options to give our baby a chance of life. At least our baby had a chance. Without giving it too much thought we knew we would be prepared to do whatever it took to give our baby the best possible chance of a good outcome.
I was monitored regularly throughout the pregnancy and all seemed to be going well. I had been booked in for an induction in Bristol on the 27th December. We were planning to have a quiet Christmas and then prepare ourselves to meet our new arrival and face whatever challenges it brought.
I went to a party on the 30th November and danced the night away. Despite being eight months pregnant I felt great! The next morning I woke up and felt my waters go. This was definitely not in the plan! I was admitted to our local hospital in Newport and once they were confident my waters had gone I was on my way to Bristol, in an ambulance, on blue lights! I wasn't in labour but the look on the paramedics face told me they were going to get me there as soon as was humanly possible. They didn't want a premature cardiac baby being born in the back of their ambulance!
Once in Bristol, the plan was to monitor me and try and keep the baby in as long as possible. I had lots of chats with the pediatric team. I was concerned that the baby wouldn't be big enough for surgery and that this might affect her chances of survival. They were great and reassured me that while not the optimum scenario, they had helped other premature heart babies and that she still had a chance of a good outcome.
On the 5th December I went into spontaneous labour and just a few hours later, in a room packed with people, Harriet Arwen was born. She was 5lb, which was a good weight and came out screaming at the top of her lungs. That made us all breathe a sigh of relief!
Harriet was transferred to the neonatal intensive-care unit (NICU) and we didn't see her for quite a few hours. When we did see her she was in an incubator but was breathing on her own and looked really well. She had been started on a prostin IV to keep her ductus arteriosus open to allow her heart to keep working as it did in the womb. She would need this IV until she could have her first surgery. This proved to be the biggest challenge that we all faced over the coming weeks.
Over the next few days the doctors were really happy with her. They let her start feeding by NG tube and I was expressing seven times a day. It was a real challenge to find the time amongst ward rounds, cares, visitors and trying to eat and get a bit of sleep. We were fortunate to have a bed at the Cots for Tots house just across the road from the hospital but it was still incredibly tiring and emotionally draining.
After a week they needed to replace Harriet's IV as it was going in through her umbilical cord but after a week that deteriorated and they needed to put in a long line which should had lasted a week or so. We had many issues with these, including one that caused Harriet so much pain she couldn't move her leg without screaming – that quickly came out.
Other than this, Harriet was doing well and was putting on some weight and after two weeks was big enough to move to the cardiac ward at the Children's hospital. It was a big move for us from the white sterile NICU to the colorful and noisy ward. It became our home for the next 7 weeks and weirdly we still have fond memories of our time there even though it was under difficult circumstances.
Harriet's prostin IV continued to cause issues. Line after line failed and we started running out of options. We were called at 4am on Boxing Day morning to go to hospital urgently to sign consent for Harriet to go to surgery. They had lost all her lines, had shaved her head to fine a vein with no luck and they had called an team in to operate immediately to put in a anesthetic line that should provide a more stable option. Even the nurses on the ward said they had never known this happen. Sending your baby to theatre at 5am in the morning was nothing sort of traumatic but she sailed though and was fine the next day.
A few days later we faced another hurdle. Harriet was experiencing terrible stomach pain and bloody stools. The doctors felt she might have a bowel infection called Necrotising Enterocolitis (NEC) which sometimes develops in premature babies. It can severely and permanently damage the bowel and can be fatal if left untreated. The best way to treat it is to give antibiotics and stop all milk for 10 to 14 days. She would be fed by IV solution only. It also meant that her forthcoming surgery would be delayed until she was better.
The IV problems continued and one day Harriet started having short apneas (periods of not breathing). Then just after lunch she turned a horrible grey colour and her breathing stopped but didn't restart. The nursing team intervened and the resus team was called. Thankfully they were able to get her breathing again but we spent some time on PICU while they worked out what had happed. It turned out the IV was partially blocked and she was receiving a variable dose of the Prostin which is known to cause babies to stop breathing if they have too much. The line had to go – again!
So back to surgery, thankfully in the day time, and a semi permanent Hickman line was inserted. This was a much more secure option and we were able to have a few weeks with no further issues. On the 13th January, with all infection cleared and Harriet having gained enough weight, she was able to have her first open heart surgery – The BT Shunt.
Despite all the previous drama she did well and was back on the ward within a couple of days. We were so relieved that her life no longer relied on good IV access. We were told we might go home a few days later and the reality of taking our beautiful girl was finally sinking in.
Unfortunately she starting having stomach problems again and it looked like the NEC had resurfaced. Milk was stopped and IV food was back. We felt like we'd never get to leave. Thankfully, a week later they reviewed the situation and decided she was well enough to restart feeding. We were so relieved. By this point she was so small and thin. Still only weighing about 7lb, yet she was 2 and a half months old. She was proving to be a feisty one (that is, she cried a lot!) so they were happy for us to prepare to take her home.
She was being fed by NG tube so we learned how to do this and started to introduce a bottle. After 9 weeks without sucking she struggled but we resolved to persevere.
We moved initially to Cardiff to meet our local cardiac team and within a few days they allowed us home. It was very scary taking her home for the first time with all the medication and NG paraphilia but I was just so grateful to be sleeping in my own bed with my baby girl for the first time in 10 weeks.
The next few weeks and month were challenging. With a lot of hard work and persistence we were able to take out Harriet's NG tube when she was about 4 months old. She did amazingly and her weight gain was fantastic. As soon as we were able to start solids she never looked back. She loved her food and still does to this day.
Harriet had her second open heart surgery when she was 8 months old. This was more of a struggle and she had a massive bleed when they attempted it and the surgeons nearly lost her. Thankfully a week later it was successfully completed with no drama. Until this point her development was slow. She could say a few sounds and sit up but couldn't roll over and was definitely no where near being able to stand.
After the surgery she was like a different child. She rolled, stood and walked within about three months and quickly caught up with others her age. She is now just 2 years old and full of life. For being such a tiny baby she is now big for her age and towers above most of her friends. She does struggle with energy and gets tired quickly but she is learning to pace herself so that she can still enjoy being busy and active.
The last two years have been incredibly challenging but also very rewarding. Harriet is an absolute joy and just spending time with her makes all the difficult times worth it. We know we will have more difficult times ahead but, for now, we are just enjoying watching her grow and develop and making the most of her life.