Small heart charity gives Birmingham bull a heartfelt makeover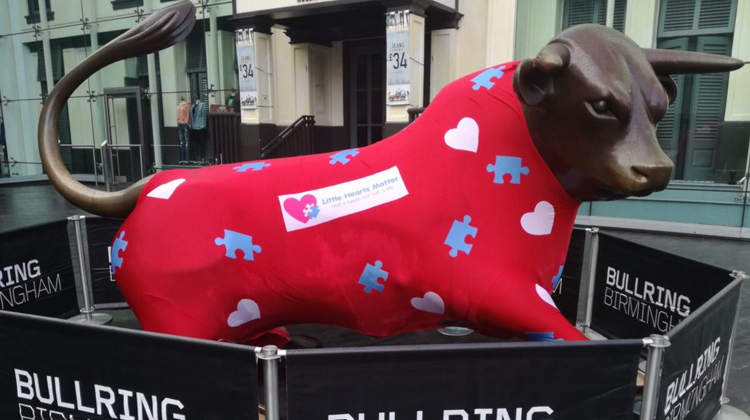 Visitors to Birmingham's Bullring shopping centre this weekend will notice the iconic bull statue donning a new heart-themed outfit in a bid to raise awareness of children with half a working heart.
Little Hearts Matter (LHM), a small charity that supports families when their child has only half a working heart, is currently the Bullring Birmingham's charity of the year. The charity were given the fantastic opportunity to dress the bull to mark the end of a year-long partnership.
Chantel Blake, Communications Officer at Little Hearts Matter said: "This is an incredible opportunity to raise much needed awareness of the charity and the families we support. An opportunity like this is very rare, and we are so grateful. The bull looks superb in the outfit and we hope lots of people will take selfies next to the bull and upload them to social media to help us spread our message far and wide."
Little Hearts Matter was put forward as the shopping centre's charity of the year by mum Jessica Rock, who receives support from Little Hearts Matter and has a son called Vinnie who has just half a working heart. Jessica works for the Bullring Birmingham and has received extensive support from the small charity. She said: "Little Hearts Matter gave me and my family the feeling that we were not alone. The charity's information packs have filled us with hope for the future."
Jessica added: "We became aware of LHM on PICU after Vinnie's first open heart surgery. They made us understand that there are more families out there who are going through the exact same journey as us. Reading LHM's newsletters filled us with hope for the future, it was so encouraging reading the stories, these have kept us going for the last four years."
Bal Kainth, Senior Fundraiser at Little Hearts Matter said: "We are so grateful to Jessica for putting us forward and to the staff at Bullring for making us their charity of the year. We are always there for our families and it's always lovely when they support us and raise awareness of the work we do."
Bal added: "The partnership with the Bullring has been amazing. In support of LHM, staff at Bullring Birmingham have trekked the Three Peaks, held office bake sales, helped us to hold a Christmas fundraiser and so much more over the year. For a small charity, our partnership with the Bullring has made a huge difference so we'd like to take this chance to send a huge thanks to everyone involved."
The bull's costume, which features hearts and jigsaw pieces, was created by 18 year-old fashion student Coral Newcombe. Coral is a first year student at Birmingham City University and the university has worked closely with the charity to create the great costume.
Up to 600 babies are diagnosed with half a working heart each year. Many of those diagnosed are before birth and others are following the collapse of their heart in the first few days after being born. Little Hearts Matter is the only charity in the UK solely dedicated to supporting families through their half a heart journey.
For more information about Little Hearts Matter, please visit: www.www.lhm.org.uk