LHM community reunited at summer family event – September 2021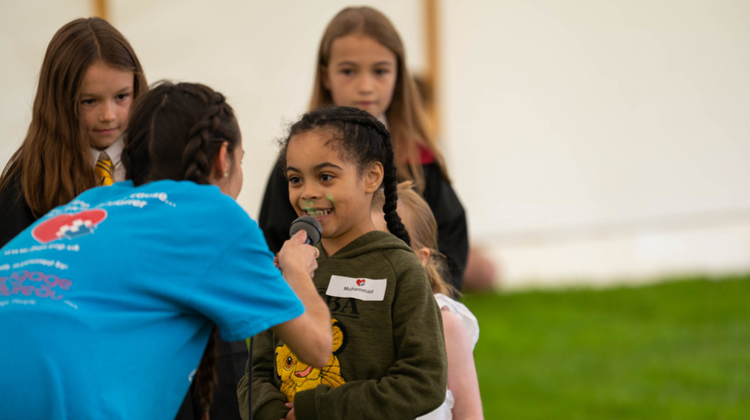 A special coming together of families on the half a heart journey.
After almost two years, the LHM family sees a return to physical events with an exciting summer event at the Pioneer Centre in Cleobury Mortimer. The site welcomed almost 300 members of the charity for a weekend of fun activities and much needed face-time.
The grounds of the Pioneer centre were transformed into an LHM village with a vast array of games, activities and entertainment for our members to choose from. The soaring Big Top tent took centre stage with a magician, circus skills and LHM's very own Youth Leader Lexie hosting a game show. For some of the young attendees, this was the first time they have been able to meet and play with other young people living with half a working heart – many memories have been created.
Physical events have always played a key role in LHM's support work – bringing heart-families together helps them to feel less alone in their situation. Throughout the pandemic, many of our members have been feeling more Isolated than ever and though virtual support services have helped us bridge the gap, it is clear that in-person support events provide our community with something special that cannot be replicated online.
"The Summer weekend was amazing! I don't do emotional, but the tears were flowing at the end. Thank you for taking the isolation away. Little Hearts Matters have made this journey a lot easier Xx" Shared by LHM heart-mum, Fiona
"It was all so inclusive. Other families chatted to us as part of the family, we felt that even though we had lost a child we still belonged. The bubbles seemed like the perfect way to end the day. Sending messages to the ones we have lost but celebrating for the children still travelling their journey." Shared by one of our lovely bereaved members
This event would not have been possible without all of the amazing individuals that so generously gave up their bank holiday weekend for us. We also wanted to thank the incredible businesses that offered amazing financial support for this event. Thank you everyone, see you all at the next one!