'When I Was Born In 1967 There Were No Antenatal Scans' – Donna's Story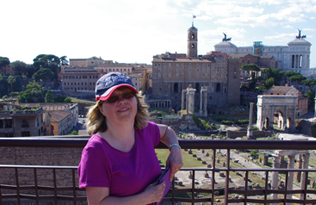 I'm Donna, 49 years old and married with two children; nothing out of the ordinary there. But everyone has a story to tell and this is mine…
When I was born in 1967 there were no ante-natal scans, so when I was struggling and turning blue on feeding at three months old, and the Cardiologists at Birmingham Children's Hospital found I had a complex cardiac condition it came as quite a shock to my parents. In fact, the only reason I survived was because my patent ductus remained open – usually it closes shortly after birth. They were told I would be doing well if I survived to the age of five! I became known as the 'girl with the blue nose and lips'.
At nine years old I had a Glenn shunt between my heart and lungs to get more oxygen around my body. After this operation my parents were told that on opening me up it was all more complicated than the surgeons realised and they would just have to see how I managed. In those days the Children's Hospital was based at Ladywood, Birmingham and to go down to the operating theatre you were taken outside – a few years later a big fundraising campaign was set up and a canopy was erected in order to protect the children on their way to and from the theatre. Also you didn't go to ICU, you simply returned to the ward (chest drains and all) with your bed situated close to the Nurses' Station.
Throughout my school years it was obvious that I could not take part in PE. Before my Glenn I even struggled at playtime, especially in the winter months, and spent most of my time in the classroom reading – I think by the time I left primary school I had probably read every book in the school library! At no point in my school life did I receive any extra support, and I do remember feeling very breathless every time I got to the top of the stairs if I needed to go to a lesson on one of the upper floors when I was at senior school. I also recall the time my class had to walk across the fields to the local sports centre where sports day was being held; we were told to run, so I did… and collapsed under a tree. The teachers were very careful not to repeat that incident!
After I left school I went to college and then started working in a General Practice as a Medical Secretary. I also met Andre, who is now my husband, and life continued on. I had learnt to cope and manage my heart condition, and although I got more tired and breathless than other people, I feel I tried hard to not let it interfere with anything I wanted to do. It wasn't until I suffered a TIA that my Cardiologist at that time (Dr John Wright) suggested that there was a new operation available, the Fontan, which could help me. At the time I was 22, and really just wanted to get on with my life, but after the benefits was explained to me, in particular that it may give me a chance to have children, and after much discussion with the important people in my life, I decided to go for it!
For the first time the complexities of my condition were explained to me: the fact that I had no tricuspid valve (tricuspid atresia), transposition of the great arteries, ASD and a single ventricle – 'half a heart'. I was informed that I was part of the first generation with my condition to survive to adulthood.
I had my Fontan June 1990, in the middle of World Cup fever! Personally I was hoping to spend the whole tournament asleep, but after a stint in ICU, which included being rushed back to theatre for a burst blood vessel, I returned to the ward. Lying in my hospital bed, feeling very uncomfortable from my chest drains, my mum read from my notes that I 'had been slow to warm up'. My dad turned to my then boyfriend (now my husband) and asked if that was true…. Poor bloke didn't know where to put himself!
My Fontan certainly did improve my health – for the first time I was pink, and my breathing was so much better. We got married, and then we wanted to start a family. Since my Fontan I had been on Warfarin so I knew that pregnancy was not going to be easy. Dr Wright referred me to a very eminent Cardiologist, Dr Jane Somerville, at the Brompton Hospital thinking she had experience of single ventricle patients having children. However, during our consultation she remarked: "Well I've never had any one with your condition have a baby, but I really think you should try!" So we did! In no way can I say my pregnancy was uneventful, with a long stay in hospital, episodes of bleeding and constant scans, but in January 1996 our son, Nathan, was born. A few years later, when I was unexpectedly pregnant again, I informed the doctor about to carry out my echocardiogram that I was about 10 weeks pregnant; "People with Fontan's don't get pregnant" was his reply. Imagine his surprise when I told him I already had a seven year old at home! During my first pregnancy I was still under the Children's Hospital, as there were no Adult Congenital Heart Units, but by the time I had Cerys, our daughter, I was under the team of adult specialists at the QE Hospital, Birmingham.
It is this team that four years ago, when I was struggling again, and there was talk of a heart transplant; picked me up, sorted me out and put me back on my feet again to carry on with my life.
Obviously life isn't perfect; my cardiac condition impacts on how much I can do, especially as I get older (and at 49, apparently I really am an old Fontan!), and both my children have CP and are full time wheelchair users, but we enjoy life. My son is now 20 and at university, and my daughter is 13 and very creative. We are very proud of them both. We have a family motto that "in order to be irreplaceable, you have to be different" and we certainly are unique.
When I was growing up, my parents and I didn't have a supporting charity like Little Hearts Matter, and I love to see how the charity offers advice and support to all the parents, children and young people. I also enjoy seeing how the parents support each other via the Facebook pages, etc. I feel I can empathize with how the parents are feeling; having sat next to several hospital beds with my own children, and how the children feel when they have had their operations (chest drains – yuk!) and the young people growing up with 'Half A Heart'. I hope that they know life is there for the taking and to enjoy the adventure!
Written by Donna Giles (2017)