Private: Autumn Memorial Walk 2017
14 October 2017 - 14 July 2017
National Memorial Arboretum, Staffordshire
This walk is a special event for our bereaved families, but all are welcome to come and walk together, to remember and celebrate the lives of children lost.
The 2k walk will take you through different parts of the arboretum including the Little Hearts Matter memorial. We will end with lunch and a chance to chat with fellow walkers.
To find out more or sign up, go to www.lhm.org.uk/memorialwalk2017.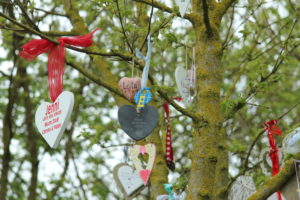 Handmade Hearts Craft Session
24 August 2017, 10am - 12pm
Little Hearts Matter, 75 Harborne Road (4th floor), Edgbaston, Birmingham, B15 3BU
Come and join us for a free kids' craft session and photoshoot during the summer holidays! Parents will have a chance to have a coffee, a chat and a catch up with other LHM members while making heart-shaped crafts with their heart warriors. The crafts will be aimed at children aged 3-11 but other ages are welcome and siblings can join in too. Please make sure you're all wearing clothes you don't mind getting a little messy!
Your heart warrior could also be one of the superstars of our Handmade Hearts campaign this October! A professional photographer will be there on the day taking lots of adorable photos of our little superheroes and their heart-shaped crafts to help us encourage people to make, bake, sew and sell heart-shaped crafts to raise funds for LHM.
Find out more or sign up here.
Explore ways to make taking a baby with a single ventricle heart condition home safer.
21 October 2017, 10.30 am - 2.30pm
LHM office
Taking a child home for the first time after complex surgery can be very frightening. Knowing what to look for if a baby is becoming ill is a constant concern for mums and dads.
We would like to invite the families of children under the age of two to help us to review the new tool to make sure it is perfect before it goes on general release.
If you are interested in attending a relaxed research day at the Little Hearts Matter office on Saturday the 21st October complete the form you can find here 
As well as the research session there will be time for lunch and a chat with other LHM families