The office team is made up of nine members of staff who bring their knowledge and skills to all aspects of the charity's work.
Working as a team and covering seven days of the week their core focus is always to offer support and information as swiftly as possible and to disseminate booklets, newsletters and invitations to membership events.
All members of the team work to raise awareness of the charity's work and the needs of its membership both through the charity's web-based and social media and at events, conferences and meetings within arenas for change.
Fundraising experts work in partnership with the whole team to maximise the income needed to fund all areas of the charity's work
Managing the day-to-day workload and budgets of the organisation is the responsibility of the whole team, with overall responsibility for the charity lying with the Chief Executive in partnership with the Board of Trustees.
Suzie Hutchinson

,

Chief Executive

Suzie has been involved with the work of Little Hearts Matter since its inception in 1994. With a background in congenital cardiac nursing, parent advocacy and support she moved from a career in the health service to work full time for the charity in 1999.

As Chief Executive, her role includes representing the needs of children, and their families, with single ventricle hearts within arenas for change and managing the LHM team but her ultimate role is to offer one-to-one support and information to families seeking help to understand or live with the effects of single ventricle heart disease.

Suzie loves the day-to-day challenges that working for LHM creates. Even having planned a working day one never actually knows what may end up being the priority because a family in need may call and change the focus of the day.

One of Suzie's great pleasures is getting to know the families. Suzie says: "Any opportunity to meet the families at an activity, Open Day or In Memory event is such a pleasure. Getting to know the children over the years is always a real joy."

Suzie's hope for LHM's future is to ensure that the charity is always there for any family that needs it, growing to accommodate a larger membership but never losing the caring, personal approach that families are seeking when they call.
Deb Rahman

,

Design and Information Administrator

Deb has worked for Little Hearts Matter since 1999, and her role has changed over the years. She started out as the charity secretary, gradually developing into the Design and Information Administrator, working alongside Suzie, the Trustees and the office team to help produce the charity's information booklets, newsletters and marketing materials.

"It is such a pleasure to work for the charity, the families and the children and I hope to continue to develop really clear, accurate and appealing information resources and booklets so all our families feel well informed and empowered."

Deb lives with her partner Sean and their combined family of four children! I love going to the gym, which is a good thing as I love eating, and in particular doing a class called 'Insanity', spending time with the children and planning the building and decorating work we need to do to our new home.
Lexie Katsaitis

,

Youth Project Development Officer

Lexie is the new Youth leader at Little Hearts Matter and started in September 2017. Lexie has worked with young people for the last 10 years and has loved everyone moment of it.  This has been a great experience where she has been able to teach dance and drama, lead community projects, counsel during times of need or just sit and have a chat.

Lexie has started at Little Hearts Matter with many plans for events, projects and social media so all youth members can create friendships, seek out advice and support, make memories and have fun.

Lexie is an ex dancer working all over the world in shows and loves anything on the stage. She still teaches workshops and dances part time in shows. Lexie is also very into music and if she isn't on the stage she is usually watching someone on it in her spare time.
Paula Hughes

,

Office Secretary

Paula has been with the charity since January 2015, previously having spent 27 years in the legal profession, a very different environment from the charity sector.

Paula loves her involvement with the members of LHM. She finds all the members an inspiration and likes to get to know them and really looks forward to the Open Day where faces can be put to names.

In her spare time Paula is the Secretary of a family-run football club with an age range from 12 up to adults, a very time-consuming but rewarding hobby. She also loves to bake and cook and eating out is one of her favourite pastimes.
Tina Walmsley

,

Management & Governance PA

Tina came to LHM as Charity Secretary at the beginning of 2008 with 21 years' experience of working for the NHS. She enjoys the personal approach that the charity has in working with the families who come to us for support.

Tina's role is to provide secretarial support to the Chief Executive and Trustee Board and, together with Paula, to run the office and provide a first line of support and information for members whenever they contact us. Tina is also heavily involved in the organisation of the LHM Open Day, which is a great day for meeting the families and, whilst being hard work, is a very rewarding part of the job.
Rebecca Wilkes

,

Community Fundraiser

Rebecca joined the team as Community Fundraising Co-ordinator in January 2019. Her main role is to support our fundraisers with all of their fantastic challenges and events. Rebecca loves helping supporters with their fundraising; helping them achieve their goals & see their ideas come to fruition. One of the nicest parts of the job is hearing people share their story and motivation for fundraising.

A lot of Rebecca's spare time is taken up with being a Brownie leader and region volunteer with Girlguiding Midlands, however she also makes time to fit in weekly ballroom dancing lessons too!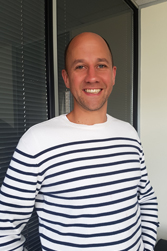 Ian Carr

,

Fundraising and Marketing Manager

Ian joined Little Hearts Matter in May 2017.

He is responsible for raising both funds and the profile of Little Hearts Matter. Having worked for charities for the majority of his career – including Acorns Children's Hospice and Variety Club –  Ian brings a number of years' experience to the role. He hopes to grow the charity's funds through corporate partnerships and overseeing grants and community fundraising, so that LHM can continue it's fantastic work supporting children and their families through the half a heart journey.

If Ian had to sum up his interests outside of work, they would be sport and family- however, having two young children means he has less time to do the first one than he used to! Running and going to the gym are his regular hobbies and he managed to complete a marathon in 2017. He also loves to play, watch and talk about rugby, cricket, football, tennis, squash and golf whenever his wife and children allow him!
Sam Jones

,

Service Support Officer (Social Media)

Sam joined Little Hearts Matter in August 2019 and is our new Service Support Officer – he'll be focusing on producing visual and written content for our social media channels and website pages. The power of social media is unquestionable – and having someone to focus on these platforms will allow us to further our reach and maintain more of a bespoke, service-driven presence online.

From promoting our support services and sharing family stories, to fundraising for events and raising awareness of the conditions we support – Sam plans to utilise social media to provide our members and wider audience with a 'one-stop-shop' for all things Little Hearts Matter.

He said; "It's an exciting time to join such a unique and meaningful charity. I come from a background of marketing and graphic design, so I can't wait to use these skills and start creating content for the LHM audience. I also look forward to interacting with the members, hearing their stories and providing a valuable service to them through social". When not glued to Photoshop, Sam can be found running, thrifting and gigging (usually in that order!)
Meredith Lambert

,

Fundraising Campaigns Officer

Meredith joined Little Hearts Matter in September 2019.

Her main role is to work alongside the fundraising team to create exciting fundraising campaigns to help raise both funds and awareness for Little Hearts Matter. She loves seeing the amazing ideas supporters come up with to fundraise. Meredith's favourite part of her job is getting to see the difference that an individual's fundraising makes to the families Little Heats Matter supports.

Outside of work most of Meredith's time is taken up by her young daughter, however when she gets the chance she loves to go rock climbing or get into the kitchen and cook.